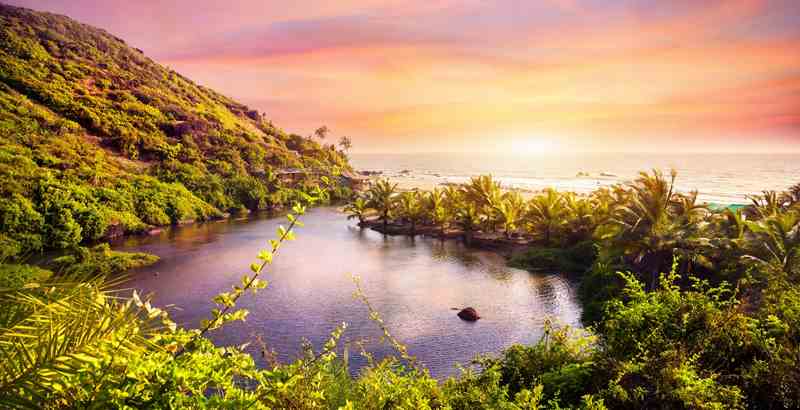 Renting A Car In Goa
Tips for Tourists and Business Travelers Renting a Car in Goa, India
Welcome to Goa, India. Whether visiting for business or pleasure, renting a car is often the most convenient way to explore this beautiful coastal state. With its stunning beaches, bustling markets, and vibrant nightlife, there's no shortage of things to see and do in Goa.
But knowing what you're getting into is essential before you hit the road. In this blog post, we'll provide valuable tips on renting a car in Goa and navigating local traffic laws and regulations so your trip goes as smoothly as possible.
Choosing the Right Car Rental Company in Goa
When renting a car in Goa, the first step is to choose the right rental company. With so many options available, knowing where to start can be challenging. By considering these factors when selecting your car rental company in Goa, you'll ensure a stress-free experience that lets you focus on enjoying all this beautiful state.
One crucial factor to consider is the reputation of the company. Look for reviews from previous customers online and ask for recommendations from locals or other travelers.
Another important consideration is pricing – understand all fees before making a reservation. Some companies may have hidden costs, such as insurance or additional driver fees, that can quickly add up.
It's also essential to check their available cars and whether they suit your needs. If you're traveling with a large group or carrying lots of luggage, look for companies that offer SUVs or vans.
To compare prices or book a car, see more details about car rental services in Goa.
Car Rental Options in Goa
Goa Airport is one of the best places to start looking for rental options. With several great choices available for car rentals onsite, finding one that meets all your requirements should be easy.
Most car rental companies in Goa provide compact cars, mid-size sedans, and SUVs that accommodate up to 7 passengers. These vehicles have amenities like air conditioning, power steering, and a music system.
Some popular car rental options include Eco, Instant Cabs, and more. Each company provides different rates depending on the type of vehicle you require and how long you plan on using it.
To rent a car at the airport, your driver's license and ID proof, such as your passport. You may also be required to leave a deposit before taking possession of your rented vehicle.
It is always advisable for tourists to book their desired vehicle ahead of time to avoid any last-minute hassle upon arrival at the airport.
Driving Directions at Goa Airport
The airport is about 26 km from Panjim, the capital city of Goa. From there, you can access major highways that lead to popular tourist areas such as North and South Goa.
To reach North Goa, take National Highway 66 towards Mapusa and continue on State Highway 1 until you reach your destination. On the other hand, if you're heading south towards Margao or Colva Beach, take National Highway 66 and then turn onto State Highway 8.
It's important to note that driving in India can be chaotic for foreigners not used to it. Be cautious when navigating through busy streets, and keep an eye out for pedestrians and stray animals.
Benefits of Renting a Car in Goa
One of the main advantages is that it provides convenience and flexibility, allowing you to explore different places at your own pace without relying on public transportation schedules.
Car renting can save you money in the long run since taxi fares can increase quickly. With your rental vehicle, you can go anywhere without worrying about additional costs or being overcharged by local drivers.
Another benefit of renting a car is safety. Some parts of India need reliable road infrastructure. Goa's roads are well-maintained with clear signs making it easy to navigate around town safely.
Renting a car in Goa allows you to access more remote locations where public transportation may not reach. It enables visitors to fully experience the beauty of Goa's beaches, backwaters, and wildlife sanctuaries which would otherwise be difficult or impossible without private transport.
If you're traveling as part of a group or with family members and luggage, renting an SUV or larger vehicle will provide enough space for everyone and extra room for bags, ensuring all passengers travel together comfortably.
What are the requirements for foreigners to rent a car in Goa?
Suppose you're a foreigner planning to rent a car in Goa. In that case, you should have a valid driving license from your home country recognized by the Indian government. It's essential to check beforehand if your driver's license is acceptable in India.
Additionally, foreigners must carry their passports and visa while renting the car and during the rental period. These documents act as identification proof and verification of legal status within the country.
If you do not have an International Driving Permit (IDP), obtaining one is advisable before entering India. An IDP is an official translation of your driver's license into multiple languages. Dealing with authorities or rental companies can make things easier for foreign drivers.
Learn more on how to obtain an International Driving Permit for driving in India.
Some car rental companies might impose additional rules or restrictions on foreigners renting cars in Goa. Therefore, treading through all terms and conditions before booking is essential.
What are the payment options for renting a car in Goa?
Various payment options are available for tourists and business travelers. Most car rental companies accept credit card payments, making it easy for visitors to rent their desired vehicles.
In addition to credit cards, some car rental companies may also accept debit card payments. However, checking with the specific company beforehand is essential, as certain restrictions may apply.
Another option that some travelers prefer is paying in cash. This can be done when pickup or dropping off the rented vehicle. Confirm with the rental company if they accept cash payments before making your reservation.
It's worth noting that prices may vary depending on your chosen payment method. For example, some companies offer discounts for those who use a credit card upfront. Others charge additional fees for cash payments.
To ensure no surprises when it comes time to pay, read all terms and conditions before booking your rental car. As with any transaction involving money exchange, always keep receipts and records of your transactions just in case any issues arise later on during your trip.
Frequently asked questions when Renting a Car in Goa
Q: What documents do I need to rent a car in Goa?
A: You will need your valid driver's license, passport, and proof of insurance.
Q: Can I pay with my credit card when renting a car in Goa?
A: Yes, most rental companies accept credit card payments. However, it is always advisable to check beforehand for any specific requirements.
Q: Is it necessary to get additional insurance while renting a car in Goa?
A: It is not mandatory but recommended as roads can be risky and unpredictable. For added security, consider getting a collision damage waiver (CDW), theft protection, or personal accident insurance.
Q: Do rental companies provide GPS navigation systems for their cars?
A: Yes, most rental companies offer GPS navigation systems at an extra cost. Alternatively, you can also use Google Maps on your phone.
Q: Can I pick up my rental car from one location and drop it off at another location within India?
A: Some rental companies allow this service but usually charge an additional fee. It's best to check with the company before booking.
What to do when driving in India as a foreigner for the first time?
Before starting your journey, familiarize yourself with local traffic laws and road signs. Remember that many drivers must follow standard rules, such as using indicators or staying within lane markings.
While driving on highways or expressways, keep a safe distance from other vehicles since drivers may suddenly change lanes without warning. Additionally, always wear your seatbelt for safety purposes.
When driving in urban areas like Panaji or Margao city center, where there are higher volumes of pedestrians and two-wheelers share the road with cars, drive slowly and cautiously while keeping an eye out for jaywalking pedestrians who might cross unpredictably.
Feel free to ask locals for directions if you need help. Indians are known for their hospitality and friendliness towards tourists, so they will be happy to help guide you back onto the right track.
What to do if you're involved in a traffic accident in Goa?
No one wants to be involved in a traffic accident on vacation or a business trip, but unfortunately, it can happen. These measures will ensure you have documented proof of everything related to the incident, thus making it easier for authorities/agencies concerned.
Stay calm and assess the situation. Ensure that everyone is safe and not injured. If anyone is hurt or needs medical attention, call an ambulance immediately by dialing 112.
Move your vehicle to the side of the road to avoid blocking other cars and causing further accidents. Turn on your hazard lights as well.
Exchange information with the other driver(s), such as their name, phone number, license plate number, and insurance details. You'll need this information later when filing an insurance claim.
If witnesses are present at the accident scene, ask for their contact information, too. They might prove helpful later during investigations.
Take photos of both vehicles from different angles, including damage caused during a collision and surrounding areas like street signs, etc., which could help provide valuable evidence if required.
Report the incident to a local police station within 24 hours, providing all necessary documents like License, Insurance, Registration Certificate (RC), and Passport copy (for foreign nationals).
What to do if you're stopped by the traffic police in Goa?
Staying calm and following instructions from traffic police officers is crucial when driving in Goa. If the traffic police in Goa stop you, you must remain calm and respectful. Always have your driver's license, registration papers, and insurance documents on hand.
The first thing the officer will ask for is your driver's license. If you don't have an Indian driver's license, ensure you have an International Driving Permit (IDP) or a temporary driving permit from the Road Transport Office (RTO).
Next, the officer may ask for your car registration papers and proof of insurance. Make sure all documents are up to date and easily accessible.
If you've violated a traffic rule or committed an offense, be prepared to pay a fine. The amount of the penalty will depend on the severity of the crime.
It's important not to argue with the officer or attempt to bribe them. This can lead to further legal trouble and penalties.
If you feel you were wrongly accused of an offense, note any identifying information about the officer, such as their name tag number or badge number. You can file a complaint at a later time if necessary.
Tips for Avoiding Fees or Charges When Renting a Car in Goa
Renting a car in Goa can be an excellent way to explore this vibrant part of India. Following these tips can save you money while enjoying your travel experience without worrying about hidden costs. However, avoiding any unexpected fees or charges that may arise during your rental period is essential.
Always read the rental agreement carefully before signing it. Ensure you understand all the terms, conditions, and potential additional costs of renting the vehicle. Be aware of hidden fees such as fuel surcharges, airport pickup and drop-off charges, late returns, and other driver fees.
Inspect the car thoroughly before taking possession of it. Any damage should be recorded on the rental agreement so that you're not held responsible for pre-existing damage upon returning the vehicle.
Ensure you return the car on time to avoid being charged a late fee or penalty charge. It's also essential to keep track of your mileage usage since many rentals include restrictions or limit mileage allowance; going over your allotted miles will attract more charges than necessary.
Filling up petrol at non-branded gas stations is generally cheaper than branded ones, but check if they are authorized by asking locals around them.
What are the parking and traffic regulations in India?
When driving a rental car in India, it's crucial to obey traffic laws while being aware of cultural differences and customs. Its roads can be chaotic, with cars, buses, bikes, and pedestrians all sharing the same routes.
It's important to note that many cities have designated parking areas or lots to park your car. However, these areas may only sometimes be well-marked or easy to find, so ask locals for help.
Another thing to remember is that some streets may have "No Parking" signs posted, which means you cannot park your car on those streets at any time. Additionally, if you see yellow lines painted on the curb, this usually indicates that parking is also prohibited.
Follow speed limits and road rules, such as stopping at red lights and yielding to pedestrians. Breaking these laws could result in hefty fines or even legal trouble.
India's Ministry of Road Transport and Highways (MoRTH) has set the maximum speed limit for cars in India at 100 kph on national highways and 120 kph on expressways.
To find accesible parking locations for your visit in the city, see further details on parking options in Goa.
What are the alternatives to renting a car in Goa?
One popular option is to hire a private driver. You can easily find private drivers through your hotel or online booking sites. A private driver will navigate the roads and take you wherever you need.
Another option is to use public transportation such as buses and trains. While this may be a bit more challenging for tourists, it's certainly doable if you're willing to learn the routes and schedules.
Taxis are also readily available in Goa, but negotiate the fare before getting into the vehicle. Ridesharing services are also available, making it easy to get around without worrying about navigating foreign roads.
Renting a scooter or motorcycle is another popular option among travelers who want more freedom than public transportation but want to avoid dealing with driving a car. However, remember that safety gear (such as helmets) should always be worn while riding these vehicles on Indian roads.
Discover the various public transportation system in the city, including bus, train, and taxi services. See more details about transportation alternatives in Goa.
What are the must-see attractions I can visit using a rental car in Goa?
One of the most iconic landmarks in Goa is the Basilica of Bom Jesus, located in Old Goa. This UNESCO World Heritage site houses the relics of St. Francis Xavier and boasts stunning Baroque architecture.
Another must-visit attraction is Fort Aguada, a 17th-century Portuguese fort that overlooks the Arabian Sea. It was built to protect against enemy attacks and offers breathtaking coastline views.
Visiting Dudhsagar Falls is a must-do activity for nature lovers. Located on the Mandovi River, these four-tiered waterfalls are among the tallest in India and offer an unforgettable visual experience.
If you're looking for more laid-back activities, head to Anjuna Beach or Baga Beach, famous for their vibrant nightlife scene with live music events almost every night at various venues like bars & restaurants. You can also explore local markets where vendors sell everything from clothing to spices and souvenirs.
Discover the captivating charm of Goa's golden shores, vibrant culture, and breathtaking landscapes. See more information about the best tourism offerings in Goa that you can visit.
What types of accommodation are available in Goa?
Goa is known for its beaches, resorts, and luxury hotels to budget-friendly hostels and guesthouses. Some popular areas to stay in include Calangute Beach, Anjuna Beach, Baga Beach, and Panaji City.
Generally, the price range of its hotels varies depending on the type of hotel, location, and season. Budget accommodation can start from Rs 500 per night, while luxurious 5-star properties may cost up to Rs 10,000 per night or more.
If you are looking for mid-range accommodation, you should expect to pay between Rs 2,000 - 5,000 per night. Furthermore, several budget hostels offer dorm beds starting at Rs 200 per night.
To compare prices and book a hotel for your stay in the city, see further information about finest accommodations in Goa.
UNBEATABLE VALUE CAR RENTAL

FREE
Amendments,
FREE
Cancellations,
NO
card fees!

airport_shuttle Need Airport Transfers?
Useful Information about Goa International Airport