Goa International Airport Departures (GOI)
Not all flights may be showing. If not available use search above to find your flight by airline, airport or flight number.
Destination
Airline
Flight no.
Scheduled
Est./Actual
Status
Hyderabad (HYD)
IndiGo
6E712
02:30
Scheduled
Ahmedabad (AMD)
IndiGo
6E381
02:35
Scheduled
Bengaluru (BLR)
Vistara
UK882 expand_more(1)
02:40
Scheduled
Bengaluru (BLR)
Jet Linx Aviation
JL9258
02:40
Scheduled
Indore (IDR)
IndiGo
6E813
02:45
Scheduled
Bengaluru (BLR)
IndiGo
6E633 expand_more(1)
03:05
Scheduled
Bengaluru (BLR)
Qantas
QF8951
03:05
Scheduled
Delhi (DEL)
IndiGo
6E6449 expand_more(2)
03:20
Scheduled
Delhi (DEL)
American Airlines
AA9193
03:20
Scheduled
Delhi (DEL)
Virgin Atlantic
VS9551
03:20
Scheduled
Kolkata (CCU)
IndiGo
6E162
03:20
Scheduled
Mumbai (BOM)
Air India
AI664 expand_more(2)
03:25
Scheduled
Mumbai (BOM)
Egyptair
MS9568
03:25
Scheduled
Mumbai (BOM)
Lufthansa
LH5303
03:25
Scheduled
Mumbai (BOM)
IndiGo
6E5231 expand_more(2)
04:30
Scheduled
Mumbai (BOM)
British Airways
BA8015
04:30
Scheduled
Mumbai (BOM)
Virgin Atlantic
VS8400
04:30
Scheduled
Delhi (DEL)
Air India Express
IX1799
05:05
Scheduled
Hyderabad (HYD)
AIX Connect
I51983
05:10
Scheduled
Surat (STV)
IndiGo
6E418
05:10
Scheduled
Hyderabad (HYD)
Alliance Air
9I880
05:10
Scheduled
Hyderabad (HYD)
IndiGo
6E117
05:25
Scheduled
Chandigarh (IXC)
IndiGo
6E724
05:45
Scheduled
Delhi (DEL)
AIX Connect
I5721
06:10
Scheduled
Hyderabad (HYD)
AIX Connect
I5974
06:25
Scheduled
No flight departures were found at Goa International Airport.

Flight Departures at Goa International Airport
When arriving at Goa International Airport for departure there are a few things that might be good to know beforehand.
Please remember to retrieve all personal belongings from your accommodation and means of transfer.
Parking at Goa Airport
Goa Airport has a multi-level parking facility located right opposite the terminal with room for more than 550 vehicles.
Transfers at Goa Airport
Rental Cars – Rental car companies at Goa Airport are located in the domestic arrivals area. Please return the vehicle according to instructions.
Buses – Local buses from Vasco Da Gama or Chicalim stop at a bus stop located off-airport grounds, approximately 500 m/1,600 ft from the terminal. The frequency is irregular, buses are often crowded and they rarely have room for larger luggage.
Goa Tourism and various private companies offer bus or shuttle service from different locations. The frequency varies and is irregular, but these buses usually have space for luggage and are less crowded. The trip from Panjim will cost approximately 200 INR. More information about bus services to and from Goa Airport.
Taxis – It is difficult to say how much a taxi transfer to the airport will cost as it depends heavily on the taxi company used, the type of vehicle used and the origin of the journey, but the journey from Panjim will take around 1 hour and cost around 1,000 INR if the taxi is legitimate. More about taxi services at Goa Airport.
Hotel Shuttles – Many of the hotels in Goa offer an airport transfer to their guests at an additional cost. These are organized by the hotel on the request of the guest.
Trains – The airport does not have a train station, but there are two stations located nearby. The closest, and smallest, is located just over 1 km/less than a mile from the airport in Dabolim while a bigger one is found in Vasco Da Gama 5 km/3.1 mi away offering train connections from more locations. It is possible to take a taxi from either of the stations and the walk from Dabolim train station is only 20 minutes or so with light luggage. See more about train services local to Goa Airport.
Cruise Terminal – If arriving at the cruise terminal in Mormugao 9 km/5.6 mi away the easiest way of transfer to the airport is by taxi.
Ferries – The Dabolim Airport Ferry Terminal is located on Baina beach 5 km/3.1 mi from the airport. Contact the operator, Drishti Marine for information about transfer from one of the locations connected with the ferry terminal to the airport. Locations of transfer from the airport include Panjim, Baga, Old Goa and Sinquerim, but it is unclear if there are currently transfers to the airport.
Smoking at Goa Airport
The airport has a total of four dedicated smoking areas located on the airside of the airport, one in the Domestic and one in the International Departures areas as well as in the Arrivals areas.
WiFi at Goa Airport
The airport's free WiFi network is called "FREE Wi-Fi @ AAI by Vodafone". After selecting the network simply click "Free Wi-Fi" on the login page that opens in the browser, enter the mobile number in use and an OTP, one-time password, will be generated. Enter the password, click submit and the session should be activated.
PRM Facilities at Goa Airport
Basic facilities for Persons with Reduced Mobility are found at the airport, including lifts and ramps for moving at different levels, tactile flooring, parking spaces and wheelchair assistance. Assistance is requested through the airline, while questions regarding terminal facilities should be directed to the airport itself.
Passenger Baggage Trolleys at Goa Airport
The airport offers free baggage trolleys to all travelers to conveniently navigate their luggage through the airport.
ATMs at Goa Airport
One ATM/cash machine can be found on landside, or City Side as the airport calls the public area of the airport, while yet another is found in the Departures area and a third one in the Arrivals area.
Baby Care Facilities at Goa Airport
A Baby Care room can be found in the terminal. The room has colorful benches to sit on, a diaper changing table and a flight information screen.
Check-in at Goa Airport
There are self-check-in kiosks as well as illuminated check-in counters at the airport. Check with the airline what is available for your flight.
First Aid at Goa Airport
A First Aid Room is available in case of an emergency.
Mobile Charging Points at Goa Airport
Mobile Charging Facilities can be found in various locations of the terminal.
Hotels at Goa Airport
The airport doesn't have a hotel located on airport grounds, but there are plenty of hotels in the nearby area to choose from. See a range of hotels near Goa Airport.
Dining at Goa Airport
Small snack bars and shops are available in the different areas of the airport. One is located in the public area while the rest is on the airside.
Shopping at Goa Airport
The International Departures and Arrivals area has shops selling cigarettes, electronic items, liquor, perfumes, toiletries, watches and a wide variety of other gift items, while shops selling books, clothes, news and general goods can be found in both Domestic and International areas of the airport.
Was your flight delayed or cancelled?
You may be eligible to receive up to 600 EUR compensation per person in your party..
Claim Now!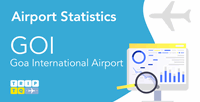 Goa International Airport in India is a prime example of this recovery, with a staggering 52.77% increase in passenger traffic in September 2023 compared to January 2023.