Destinations with connections to Goa International Airport (GOI)
Flights, Arrivals & Departures at Goa International Airport
Origin
Airline
Flight no.
Scheduled
Est./Actual
Status
Bangalore (BLR)
AIX Connect
I5670 expand_more(1)
00:15
01:40
Landed
Bangalore (BLR)
Air India
AI9606
00:15
01:40
Landed
Hyderabad (HYD)
IndiGo
6E6532
00:20
00:08
Landed
Doha (DOH)
Qatar Airways
QR522
02:35
02:21
Landed
Manama (BAH)
Gulf Air
GF284
03:30
03:44
Landed
Sharjah (SHJ)
Air Arabia
G9492
03:55
04:01
Landed
Bangalore (BLR)
AIX Connect
I51574 expand_more(1)
05:30
05:10
Landed
Bangalore (BLR)
Air India
AI9604
05:30
05:10
Landed
Mumbai (BOM)
IndiGo
6E5202 expand_more(4)
06:05
05:53
Landed
Mumbai (BOM)
Air France
AF6052
06:05
05:53
Landed
Mumbai (BOM)
British Airways
BA7965
06:05
05:53
Landed
Mumbai (BOM)
KLM
KL3678
06:05
05:53
Landed
Mumbai (BOM)
Virgin Atlantic
VS8771
06:05
05:53
Landed
Mumbai (BOM)
Air India
AI685 expand_more(3)
06:20
05:59
Landed
Mumbai (BOM)
Air Mauritius
MK8040
06:20
05:59
Landed
Mumbai (BOM)
Egyptair
MS9569
06:20
05:59
Landed
Mumbai (BOM)
Lufthansa
LH5312
06:20
05:59
Landed
Moscow (SVO)
Aeroflot
SU236
06:40
06:24
Landed
Hyderabad (HYD)
IndiGo
6E743
06:55
06:46
Landed
Ekaterinburg (SVX)
Aeroflot
SU632
07:05
07:15
Landed
New Delhi (DEL)
AIX Connect
I5779
07:10
06:50
Landed
Bangalore (BLR)
Vistara
UK581
07:30
07:27
Landed
Kochi (COK)
IndiGo
6E211
07:30
07:05
Landed
Bangalore (BLR)
IndiGo
6E194 expand_more(2)
07:35
07:18
Landed
Bangalore (BLR)
KLM
KL4722
07:35
07:18
Landed
Bangalore (BLR)
Qantas
QF5031
07:35
07:18
Landed
Mumbai (BOM)
Vistara
UK861 expand_more(2)
07:55
07:33
Landed
Mumbai (BOM)
Singapore Airlines
SQ4861
07:55
07:33
Landed
Mumbai (BOM)
Swiss
LX4832
07:55
07:33
Landed
Chandigarh (IXC)
IndiGo
6E6056
08:40
08:31
Landed
New Delhi (DEL)
Vistara
UK891 expand_more(1)
09:50
09:35
Landed
New Delhi (DEL)
Singapore Airlines
SQ4881
09:50
09:35
Landed
New Delhi (DEL)
IndiGo
6E2175 expand_more(4)
10:10
09:50
Landed
New Delhi (DEL)
Air France
AF3332
10:10
09:50
Landed
New Delhi (DEL)
American Airlines
AA9180
10:10
09:50
Landed
New Delhi (DEL)
KLM
KL4753
10:10
09:50
Landed
New Delhi (DEL)
Virgin Atlantic
VS8467
10:10
09:50
Landed
Ahmedabad (AMD)
IndiGo
6E6375
11:10
10:49
Landed
Bangalore (BLR)
IndiGo
6E6982 expand_more(1)
11:55
Delayed
Bangalore (BLR)
Qantas
QF5030
11:55
Delayed
Mumbai (BOM)
IndiGo
6E5307 expand_more(2)
12:30
Delayed
Mumbai (BOM)
British Airways
BA7926
12:30
Delayed
Mumbai (BOM)
Virgin Atlantic
VS8280
12:30
Delayed
New Delhi (DEL)
IndiGo
6E2277 expand_more(1)
12:40
Scheduled
New Delhi (DEL)
Virgin Atlantic
VS8353
12:40
Scheduled
Mumbai (BOM)
Vistara
UK841 expand_more(2)
12:45
Scheduled
Mumbai (BOM)
British Airways
BA5875
12:45
Scheduled
Mumbai (BOM)
Singapore Airlines
SQ4815
12:45
Scheduled
Mumbai (BOM)
AIX Connect
I5762 expand_more(1)
13:15
Scheduled
Mumbai (BOM)
Air India
AI9532
13:15
Scheduled
New Delhi (DEL)
Air India
AI885 expand_more(2)
13:20
Delayed
New Delhi (DEL)
Ethiopian Airlines
ET1151
13:20
Delayed
New Delhi (DEL)
LOT
LO4451
13:20
Delayed
New Delhi (DEL)
IndiGo
6E6329 expand_more(1)
13:40
13:28
Landed
New Delhi (DEL)
Virgin Atlantic
VS8354
13:40
13:28
Landed
Bangalore (BLR)
AIX Connect
I51453
13:45
Scheduled
New Delhi (DEL)
Vistara
UK847 expand_more(5)
13:50
Scheduled
New Delhi (DEL)
Jet Linx Aviation
JL9201
13:50
Scheduled
New Delhi (DEL)
Lufthansa
LH7376
13:50
Scheduled
New Delhi (DEL)
Singapore Airlines
SQ4725
13:50
Scheduled
New Delhi (DEL)
Swiss
LX4836
13:50
Scheduled
New Delhi (DEL)
United Airlines
UA7754
13:50
Scheduled
Hyderabad (HYD)
IndiGo
6E905
13:55
Scheduled
Indore (IDR)
IndiGo
6E6219
14:00
Scheduled
Ahmedabad (AMD)
IndiGo
6E6345
14:05
Scheduled
Bangalore (BLR)
Vistara
UK881 expand_more(1)
14:05
Scheduled
Bangalore (BLR)
Jet Linx Aviation
JL9257
14:05
Scheduled
Bangalore (BLR)
IndiGo
6E6653 expand_more(1)
14:35
14:27
Landed
Bangalore (BLR)
Qantas
QF8922
14:35
14:27
Landed
New Delhi (DEL)
IndiGo
6E2485 expand_more(1)
14:40
Scheduled
New Delhi (DEL)
Virgin Atlantic
VS9171
14:40
Scheduled
Mumbai (BOM)
Air India
AI663 expand_more(1)
14:45
Scheduled
Mumbai (BOM)
Ethiopian Airlines
ET1755
14:45
Scheduled
Kolkata (CCU)
IndiGo
6E634
14:50
14:21
Landed
Mumbai (BOM)
IndiGo
6E6228 expand_more(2)
15:25
Scheduled
Mumbai (BOM)
British Airways
BA8014
15:25
Scheduled
Mumbai (BOM)
Virgin Atlantic
VS8387
15:25
Scheduled
New Delhi (DEL)
Air India Express
IX769
16:35
Scheduled
Bangalore (BLR)
AIX Connect
I51983 expand_more(1)
16:40
Scheduled
Bangalore (BLR)
Air India
AI9610
16:40
Scheduled
Surat (STV)
IndiGo
6E419
16:40
Scheduled
Hyderabad (HYD)
Alliance Air
9I879
16:40
Scheduled
Hyderabad (HYD)
IndiGo
6E121
16:55
Scheduled
Chandigarh (IXC)
IndiGo
6E614
17:15
Delayed
New Delhi (DEL)
AIX Connect
I5768
17:40
Scheduled
Hyderabad (HYD)
AIX Connect
I5972
17:55
Scheduled
Lucknow (LKO)
IndiGo
6E399
18:00
Scheduled
Mumbai (BOM)
IndiGo
6E5009 expand_more(2)
18:15
Scheduled
Mumbai (BOM)
British Airways
BA7997
18:15
Scheduled
Mumbai (BOM)
Virgin Atlantic
VS8391
18:15
Scheduled
New Delhi (DEL)
IndiGo
6E2028 expand_more(1)
19:05
Scheduled
New Delhi (DEL)
Virgin Atlantic
VS8820
19:05
Scheduled
Mumbai (BOM)
AIX Connect
I5338 expand_more(1)
19:25
Scheduled
Mumbai (BOM)
Air India
AI9534
19:25
Scheduled
Chennai Madras (MAA)
IndiGo
6E588
19:55
Scheduled
New Delhi (DEL)
Air India
AI881
20:05
Scheduled
Hyderabad (HYD)
AIX Connect
I51518
20:20
Scheduled
Mumbai (BOM)
Alliance Air
9I657
20:30
Scheduled
New Delhi (DEL)
IndiGo
6E6576 expand_more(1)
20:30
Scheduled
New Delhi (DEL)
Virgin Atlantic
VS8824
20:30
Scheduled
Bangalore (BLR)
Alliance Air
9I547
20:35
Scheduled
Raipur (RPR)
IndiGo
6E885
20:45
Scheduled
New Delhi (DEL)
Vistara
UK855 expand_more(2)
21:20
Scheduled
New Delhi (DEL)
Jet Linx Aviation
JL9203
21:20
Scheduled
New Delhi (DEL)
Singapore Airlines
SQ4775
21:20
Scheduled
Hyderabad (HYD)
IndiGo
6E984
21:35
Scheduled
New Delhi (DEL)
IndiGo
6E6603 expand_more(1)
21:55
Scheduled
New Delhi (DEL)
Virgin Atlantic
VS8355
21:55
Scheduled
Dubai (DXB)
Air India Express
IX840
22:05
Scheduled
Mumbai (BOM)
Vistara
UK843 expand_more(1)
22:10
Scheduled
Mumbai (BOM)
Singapore Airlines
SQ4769
22:10
Scheduled
Mumbai (BOM)
Air India
AI683
22:15
Scheduled
Ahmedabad (AMD)
IndiGo
6E992
22:45
Scheduled
New Delhi (DEL)
AIX Connect
I5560
22:55
Scheduled
Bangalore (BLR)
IndiGo
6E977 expand_more(1)
23:05
Scheduled
Bangalore (BLR)
Qantas
QF8351
23:05
Scheduled
Mumbai (BOM)
IndiGo
6E6106 expand_more(2)
23:10
Scheduled
Mumbai (BOM)
British Airways
BA8011
23:10
Scheduled
Mumbai (BOM)
Virgin Atlantic
VS9517
23:10
Scheduled
Bangalore (BLR)
Vistara
UK583
23:30
Scheduled
Destination
Airline
Flight no.
Scheduled
Est./Actual
Status
Bengaluru (BLR)
Vistara
UK584
00:05
00:51
En-Route
Bengaluru (BLR)
AIX Connect
I5472 expand_more(1)
00:45
02:34
En-Route
Bengaluru (BLR)
Air India
AI9605
00:45
02:34
En-Route
Hyderabad (HYD)
IndiGo
6E206
00:50
00:55
En-Route
Dubai (DXB)
Air India Express
IX839
01:10
01:03
En-Route
Doha (DOH)
Qatar Airways
QR523
04:10
04:04
En-Route
Bahrain (BAH)
Gulf Air
GF285
04:30
04:43
En-Route
Sharjah (SHJ)
Air Arabia
G9493
04:35
05:00
En-Route
Bengaluru (BLR)
AIX Connect
I51576 expand_more(1)
06:00
06:17
En-Route
Bengaluru (BLR)
Air India
AI9603
06:00
06:17
En-Route
Mumbai (BOM)
IndiGo
6E5223 expand_more(2)
06:45
06:53
En-Route
Mumbai (BOM)
British Airways
BA8013
06:45
06:53
En-Route
Mumbai (BOM)
Virgin Atlantic
VS8399
06:45
06:53
En-Route
Mumbai (BOM)
Air India
AI684
07:20
07:21
En-Route
Delhi (DEL)
AIX Connect
I5315
07:40
07:48
En-Route
Hyderabad (HYD)
IndiGo
6E744
07:45
07:52
En-Route
Raipur (RPR)
IndiGo
6E211
08:00
08:04
En-Route
Bengaluru (BLR)
IndiGo
6E249 expand_more(1)
08:05
08:12
En-Route
Bengaluru (BLR)
Qantas
QF8936
08:05
08:12
En-Route
Yekaterinburg (SVX)
Aeroflot
SU633
08:05
08:41
En-Route
Moscow (SVO)
Aeroflot
SU237
08:10
08:33
En-Route
Bengaluru (BLR)
Vistara
UK582
08:20
08:27
En-Route
Mumbai (BOM)
Vistara
UK862 expand_more(1)
08:35
08:52
En-Route
Mumbai (BOM)
Singapore Airlines
SQ4790
08:35
08:52
En-Route
Bengaluru (BLR)
IndiGo
6E6981 expand_more(1)
09:10
09:20
En-Route
Bengaluru (BLR)
Qantas
QF8348
09:10
09:20
En-Route
Delhi (DEL)
Vistara
UK892 expand_more(1)
10:25
10:30
En-Route
Delhi (DEL)
Singapore Airlines
SQ4842
10:25
10:30
En-Route
Delhi (DEL)
IndiGo
6E2195 expand_more(1)
10:45
10:41
En-Route
Delhi (DEL)
Virgin Atlantic
VS8466
10:45
10:41
En-Route
Ahmedabad (AMD)
IndiGo
6E112
11:50
11:48
En-Route
Chandigarh (IXC)
IndiGo
6E6015
12:25
Scheduled
Mumbai (BOM)
IndiGo
6E6097 expand_more(2)
13:05
Scheduled
Mumbai (BOM)
British Airways
BA7977
13:05
Scheduled
Mumbai (BOM)
Virgin Atlantic
VS8392
13:05
Scheduled
Delhi (DEL)
IndiGo
6E2091 expand_more(1)
13:10
Scheduled
Delhi (DEL)
Virgin Atlantic
VS8843
13:10
Scheduled
Mumbai (BOM)
Vistara
UK842 expand_more(2)
13:20
Scheduled
Mumbai (BOM)
Singapore Airlines
SQ4816
13:20
Scheduled
Mumbai (BOM)
Swiss
LX4833
13:20
Scheduled
Mumbai (BOM)
AIX Connect
I5679 expand_more(1)
13:50
Scheduled
Mumbai (BOM)
Air India
AI9531
13:50
Scheduled
Delhi (DEL)
Air India
AI886 expand_more(1)
14:05
Scheduled
Delhi (DEL)
Ethiopian Airlines
ET1154
14:05
Scheduled
Delhi (DEL)
IndiGo
6E2052 expand_more(1)
14:15
Scheduled
Delhi (DEL)
Virgin Atlantic
VS8842
14:15
Scheduled
Bengaluru (BLR)
AIX Connect
I51455 expand_more(1)
14:15
Scheduled
Bengaluru (BLR)
Air India
AI9601
14:15
Scheduled
Delhi (DEL)
Vistara
UK848 expand_more(4)
14:25
Scheduled
Delhi (DEL)
Jet Linx Aviation
JL9200
14:25
Scheduled
Delhi (DEL)
Lufthansa
LH7377
14:25
Scheduled
Delhi (DEL)
Singapore Airlines
SQ4752
14:25
Scheduled
Delhi (DEL)
Swiss
LX4837
14:25
Scheduled
Hyderabad (HYD)
IndiGo
6E712
14:30
Scheduled
Ahmedabad (AMD)
IndiGo
6E381
14:35
Scheduled
Bengaluru (BLR)
Vistara
UK882 expand_more(1)
14:40
Scheduled
Bengaluru (BLR)
Jet Linx Aviation
JL9258
14:40
Scheduled
Indore (IDR)
IndiGo
6E813
14:45
Scheduled
Bengaluru (BLR)
IndiGo
6E633 expand_more(1)
15:05
Scheduled
Bengaluru (BLR)
Qantas
QF8951
15:05
Scheduled
Delhi (DEL)
IndiGo
6E6449 expand_more(2)
15:20
Scheduled
Delhi (DEL)
American Airlines
AA9193
15:20
Scheduled
Delhi (DEL)
Virgin Atlantic
VS9551
15:20
Scheduled
Kolkata (CCU)
IndiGo
6E162
15:20
Scheduled
Mumbai (BOM)
Air India
AI664 expand_more(2)
15:25
Scheduled
Mumbai (BOM)
Egyptair
MS9568
15:25
Scheduled
Mumbai (BOM)
Lufthansa
LH5303
15:25
Scheduled
Mumbai (BOM)
IndiGo
6E5231 expand_more(2)
16:30
Scheduled
Mumbai (BOM)
British Airways
BA8015
16:30
Scheduled
Mumbai (BOM)
Virgin Atlantic
VS8400
16:30
Scheduled
Delhi (DEL)
Air India Express
IX1799
17:05
Scheduled
Surat (STV)
IndiGo
6E418
17:10
Scheduled
Hyderabad (HYD)
AIX Connect
I51983
17:10
Scheduled
Hyderabad (HYD)
Alliance Air
9I880
17:10
Scheduled
Hyderabad (HYD)
IndiGo
6E117
17:25
Scheduled
Chandigarh (IXC)
IndiGo
6E724
17:45
Scheduled
Delhi (DEL)
AIX Connect
I5721
18:10
Scheduled
Hyderabad (HYD)
AIX Connect
I5974
18:25
Scheduled
Lucknow (LKO)
IndiGo
6E6811
18:30
Scheduled
Mumbai (BOM)
IndiGo
6E6808 expand_more(3)
18:45
Scheduled
Mumbai (BOM)
Air France
AF6072
18:45
Scheduled
Mumbai (BOM)
British Airways
BA8018
18:45
Scheduled
Mumbai (BOM)
Virgin Atlantic
VS8840
18:45
Scheduled
Delhi (DEL)
IndiGo
6E2029 expand_more(2)
19:40
Scheduled
Delhi (DEL)
Air France
AF3333
19:40
Scheduled
Delhi (DEL)
Virgin Atlantic
VS8841
19:40
Scheduled
Mumbai (BOM)
AIX Connect
I5334 expand_more(1)
20:05
Scheduled
Mumbai (BOM)
Air India
AI9535
20:05
Scheduled
Chennai (MAA)
IndiGo
6E589
20:25
Scheduled
Delhi (DEL)
Air India
AI882 expand_more(1)
20:40
Scheduled
Delhi (DEL)
LOT
LO4452
20:40
Scheduled
Bengaluru (BLR)
AIX Connect
I51518 expand_more(1)
20:50
Scheduled
Bengaluru (BLR)
Air India
AI9609
20:50
Scheduled
Mumbai (BOM)
Alliance Air
9I658
20:55
Scheduled
Bengaluru (BLR)
Alliance Air
9I548
21:00
Scheduled
Delhi (DEL)
IndiGo
6E369 expand_more(1)
21:00
Scheduled
Delhi (DEL)
Virgin Atlantic
VS8478
21:00
Scheduled
Cochin (COK)
IndiGo
6E885
21:15
Scheduled
Delhi (DEL)
Vistara
UK856 expand_more(3)
21:55
Scheduled
Delhi (DEL)
Jet Linx Aviation
JL9202
21:55
Scheduled
Delhi (DEL)
Singapore Airlines
SQ4722
21:55
Scheduled
Delhi (DEL)
United Airlines
UA7729
21:55
Scheduled
Delhi (DEL)
IndiGo
6E2164 expand_more(2)
22:05
Scheduled
Delhi (DEL)
KLM
KL4755
22:05
Scheduled
Delhi (DEL)
Virgin Atlantic
VS8844
22:05
Scheduled
Hyderabad (HYD)
IndiGo
6E985
22:30
Scheduled
Mumbai (BOM)
Vistara
UK844 expand_more(1)
22:45
Scheduled
Mumbai (BOM)
Singapore Airlines
SQ4774
22:45
Scheduled
Mumbai (BOM)
Air India
AI697 expand_more(2)
23:00
Scheduled
Mumbai (BOM)
Air Mauritius
MK8041
23:00
Scheduled
Mumbai (BOM)
Ethiopian Airlines
ET1752
23:00
Scheduled
Ahmedabad (AMD)
IndiGo
6E281
23:15
Scheduled
Delhi (DEL)
AIX Connect
I5830
23:25
Scheduled
Bengaluru (BLR)
IndiGo
6E901 expand_more(1)
23:40
Scheduled
Bengaluru (BLR)
Qantas
QF8356
23:40
Scheduled
Mumbai (BOM)
IndiGo
6E205 expand_more(3)
23:45
Scheduled
Mumbai (BOM)
Air France
AF3790
23:45
Scheduled
Mumbai (BOM)
British Airways
BA7928
23:45
Scheduled
Mumbai (BOM)
Virgin Atlantic
VS8838
23:45
Scheduled
Flying To and From Goa International Airport
This page provides information about the destinations that can be reached via Goa International Airport.

Was your flight delayed or cancelled?
You may be eligible to receive up to 600 EUR compensation per person in your party..
Claim Now!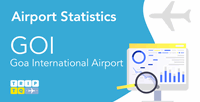 Goa International Airport in India is a prime example of this recovery, with a staggering 52.77% increase in passenger traffic in September 2023 compared to January 2023.